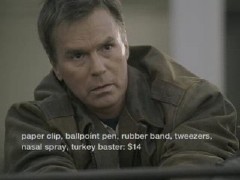 So on Sunday, there's this big annual football game called the
Super Bowl
that everyone seems to watch but no one I know (besides Jody) seems to actually care about - except for the commercials. And I can tell you right now that the one Super Bowl commercial everyone will be talking about will the latest (and arguably greatest) installment in MasterCard's
"Priceless"
campaign. Because for the first time in twelve years,
Richard Dean Anderson
returns to the role that made him famous -
MacGyver!
The 30-second spot by
McCann Erickson
will air in the 4th quarter (and go into general rotation starting March 6), but you can watch it online right now at
SuperBowl-Ads.com
(along with a bunch of other spots). And starting Sunday night, you'll also be able to view behind-the-scenes footage and making-of interviews at
priceless.com
. (Here's the full
press release
with more details.)
I really love this spot, which is a megadose of pure robogeek joy (though it falls just short of perfection due to the lack of a Dennis McCarthy score).
One can only hope that
Paramount
will wake up, smell the coffee, and make a smart, fun, suspenseful and action-packed
MacGyver
movie with Anderson - not to mention Teri Hatcher and Bruce McGill (reprising their recurring roles of Penny Parker and Jack Dalton). That would absolutely rule the earth - and frankly interest me even more than
Indiana Jones IV
.
P.S.: FYI, on March 26, Anderson will guest star on
The Simpsons
in the episode "Kiss Kiss, Bang Bangalore".